Download the app and authenticate now 
Register on the Real or Not by Authenticate Pro app for free. It's very easy and simple.
We start at $20 per authentication as a nonmember. $10 as a member. 
Any questions, feel free to call or text us 323-736-1795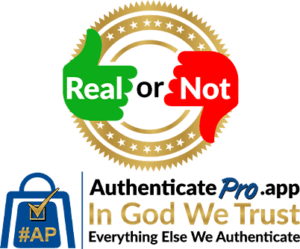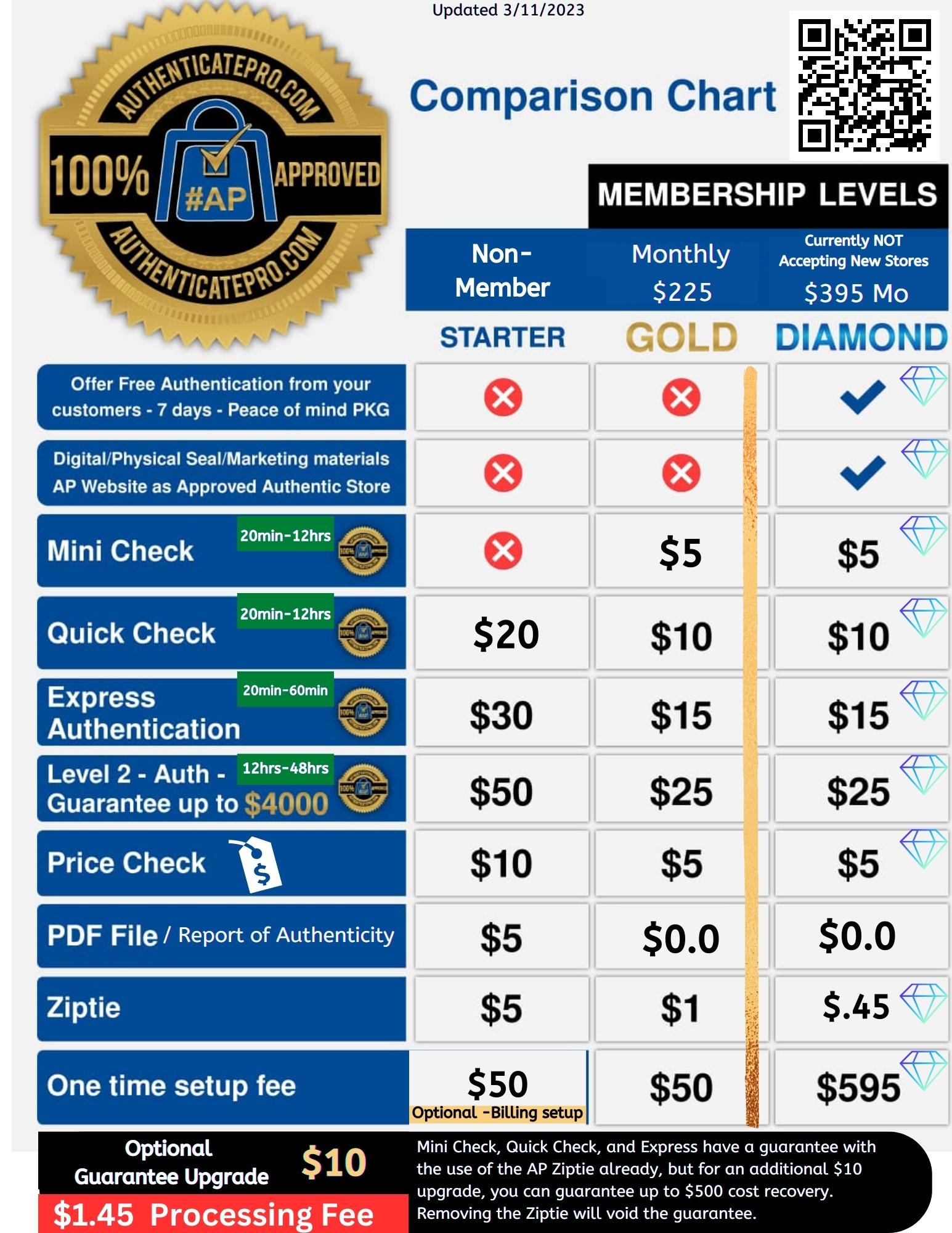 Mini Check :  (Optional -With a locked Ziptie on the item – Up to $50 guarantee – cost recovery)
20Min-12hrs
Introducing Mini Check for members– the perfect way to check authentication without compromising on budget. Our mini-checks give stores the same level of assurance they would expect from a full-scale Quick Check but at an affordable price. We believe that quality doesn't have to be expensive, which is why our mini-checks can be used with lower-end brands while still providing superior accuracy and reliability.  Brands that are Mini Checks; Dooney & Bourke, Kate Spade, Tory Burch, Brahmin, Coach, Michael Kors, Marc Jacobs, Tory Burch, Patricia Nash, Brahmin & Longchamp, Jordan, Ugg, Rothy' s, Yeezy, Love Moschino, Mario Valentino, LuLuLemon, Paul Mayer, Telfar, Sperry, Ray Ban, and Oliver Peoples glasses. Please Contact AP for the current list. 
Quick Check ; (Optional -With a locked Ziptie on the item – Up to $150 guarantee – cost recovery)
20Min-12hrs
Authenticating luxury items has never been easier and more transparent than with Quick Check. As a leader in authentication services, we provide customers with access to reliable reports that are available for public viewing. Our service is designed to give customers peace of mind when investing in luxury goods. With our advanced technology and knowledgeable staff, customers can be certain that the item they are purchasing is indeed genuine. Our simple process provides quick results, allowing you to make informed decisions quickly and confidently. 
Express Authentication; (Optional -With a locked Ziptie on the item – Up to $150 guarantee – cost recovery)
15min-60min
Same as Quick Check, but you jump to the front of the line of all working orders, for faster service.
Level 2 Authentication – 
12hrs-48hrs
Looking for a guarantee of authenticity for your luxury item? Look no further than our Level 2 authentication service. Our team of experts is highly experienced in authenticating items, so you can rest assured knowing that your purchase is genuine and comes with up to $4000 in coverage should any issues arise. We take the worry out of investing in high-end products by providing an added layer of security with our authentication process. Shop confidently and protect yourself with our affordable, reliable service today.
Optional Guarantee Upgrade
Added Security: For Mini Check, Quick Check, and Express Authentication. This optional upgrade provides added security and peace of mind when authenticating with us. Enjoy the confidence that comes with knowing that your purchase has been authenticated by an expert and the option to add a guarantee of up to $500 in case something goes wrong.
Price Check
We provide an accurate estimated value for your item, but our team members are also available to offer suggestions about how to maximize its potential when reselling it. That way, you can be sure that you're getting the best return on investment for your luxury item. (Varies by region and season). *As Is opinion.
As Is" opinion;
When not using the AP Ziptie or a Price Check. We provide you with the insights of a reliable expert without the commitment of a guarantee. Our team has years of experience in their respective fields and will give you an honest and impartial assessment. With us, you can get your questions answered without worrying about being given a sales pitch or biased answers. All opinions are provided in complete confidence so that you can make informed decisions based on real facts and knowledge.
Accuracy –
Based on the last 2000 authentications
99.5 % Conclusion by Authenticate Pro

For approved sellers only. Please call us to start your application
Ph#714-603-6649
————————————–